School Bus Safety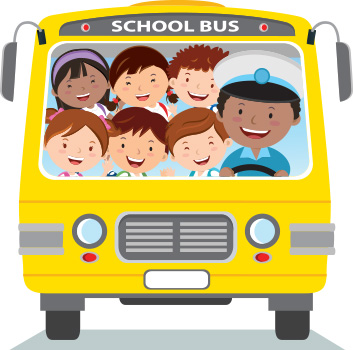 GETTING ON THE SCHOOL BUS
While waiting for the bus, stay away from traffic and avoid roughhousing or other behavior that can lead to carelessness. Do not stray onto streets, alleys or private property.
Stand back 10 feet, or 5 giant steps, from the curb until the bus has completely stopped.
When the bus has stopped and the driver opens the door, line up in single file. Do not push or shove anyone in line. Get on the bus quickly and find a seat.
Use the hand rail when stepping onto the bus.
Be aware of the street traffic around you. Drivers are required to follow certain rules of the road concerning school buses, however, not all do. Protect yourself and watch out!
BEHAVIOR ON THE BUS
Stay in your seat at all times. Bus seats are designed to protect you from getting hurt if the bus stops suddenly. Also, standing or changing seats may distract the driver.
Keep the aisle of the bus clear of feet, backpacks, books, and lunch boxes so that other children will not trip and fall.
Talk quietly. Loud noises and fighting can distract the driver.
Keep head, arms, and hands inside the bus. Never throw anything out of the bus window. It could hit a person or a car.
Before you reach your stop, get ready to leave by getting your books and belongings together.
At your stop, wait for the bus to stop completely before getting up from your seat. Then, walk to the front door and exit, using the hand rail.
GETTING OFF THE BUS
After getting off the bus, take 5 giant steps (10 feet) away from the bus, and stay on the sidewalk. If there is no sidewalk, stay on the shoulder of the road. Never walk next to or behind the bus.
If you drop something near the bus, tell the bus driver. Never try to pick it up, because the bus driver may not be able to see you.
Stay away from the bus's rear wheels at all times.
If you have to cross the street in front of the bus, walk at least ten feet ahead of the bus along the side of the road, until you can turn around and see the driver.
MAKE SURE THAT THE DRIVER CAN SEE YOU!
When the driver signals, walk across the road, keeping an eye out for sudden traffic changes.
ALWAYS LISTEN TO THE BUS DRIVER. HE OR SHE HAS RULES TO HELP KEEP YOU SAFE.