Fire Safety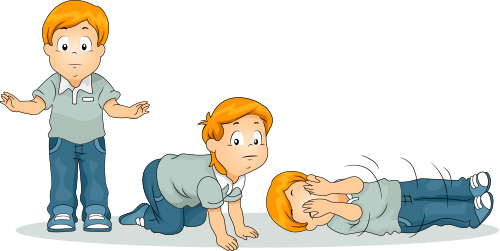 Stop. Drop. Roll.
Fire is a widespread tragedy in North America. Each year, fire kills more than 4,500 people and injures tens of thousands more. Children are particularly vulnerable to fire.
If your clothes catch fire, stop, drop, and roll - cool and call.
STOP immediately where you are.
DROP to the ground.
ROLL over and over and back and forth, covering your face and mouth with your hands, until the flames are out.
Then COOL the burn with cool water for 35 minutes.
CALL a grownup for help.
Use the "cool a burn" action any time you burn your skin, not just when your clothes catch fire.
ESCAPE RULES IN A FIRE
When the smoke detector/alarm sounds, get out quickly and report the fire.
Draw a floor plan of your home, including all windows and doors and locate two escape routes from each room. The first way would be the door and the second way out could be a window. Choose a meeting place a safe distance from the front of your home and mark it on the floor plan.
If there is a fire, keep calm. Don't panic. Let your family know you are all right.
Don't hide under a bed during a fire.
Don't hide in a closet during a fire.
Test the door before you open it by feeling it with the back of your hand near the top of the door.
If the door is cool, open it carefully. If the door is hot, DO NOT open it.
Use a second way out like the window if the door is hot.
If your room is filled with smoke, keep down close to the floor where you can breathe more easily.
Go to your meeting place and have someone call 9-1-1.
NEVER re-enter a burning building!
KEEP SAFE AROUND HEAT AND HOT LIQUIDS
Give heaters space. Keep heating appliances at least 3 feet away from people and things that can burn.
Children should not play with or near heating units, and a grownup should always be present when a heating unit is being used.
Use a fireplace screen to prevent sparks or burning wood from escaping the fireplace.
Turn off portable heaters before leaving home, going to bed, or taking a nap.
Be careful of hot liquids - they can burn skin as badly as fire can.
TELL A GROWNUP WHEN YOU FIND MATCHES OR LIGHTERS
Stay away from MATCHES, LIGHTERS, LIT CANDLES, FIREPLACES, HEATERS, STOVES and GRILLS.
9 Cool Rules of Fire Safety
Do not play with matches or lighters.
Have smoke detectors in each bedroom and in the hallways leading to bedrooms.
Test your smoke detectors once a month.
Change your clock; change your battery.
Do not hide . . . go outside.
Have an escape plan & practice it.
To escape a fire, "Fall and Crawl."
If you're on fire, "Stop, Drop, and Roll."
Know your local emergency number.