Tornado Safety
WHAT IS A TORNADO WATCH?
This means BE ALERT because tornadoes are possible in the area you live in. Listen to the radio or watch the television for updates. Be prepared to move to safety.
WHAT IS A TORNADO WARNING?
This means SEEK SHELTER IMMEDIATELY because a tornado has either been spotted on Doppler Radar or one is on the ground near your location.
WHERE SHOULD YOU SEEK SHELTER?
A basement, if one's available.
If there's no basement, go to a room with no windows in or near the center of the building on the lowest floor such as a restroom or closet, if available.
Get under a sturdy piece of furniture, if possible.
Do not try to outrun a tornado by foot or in a vehicle. It is safer to seek shelter in a building.
If you are outside, go to a low lying area (example: a ditch), and lie down flat on the ground.
Do not go near downed power lines or areas damaged by a tornado.
HOW SHOULD YOU POSITION YOUR BODY DURING A TORNADO?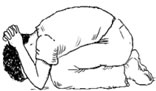 After finding shelter and a safe room...
Face the wall
Get on your knees
Interlock your fingers behind your head
Lower your head to the floor
Touch your head to the wall.
Basically, tightly tuck your body into the shape of a ball while on your knees.